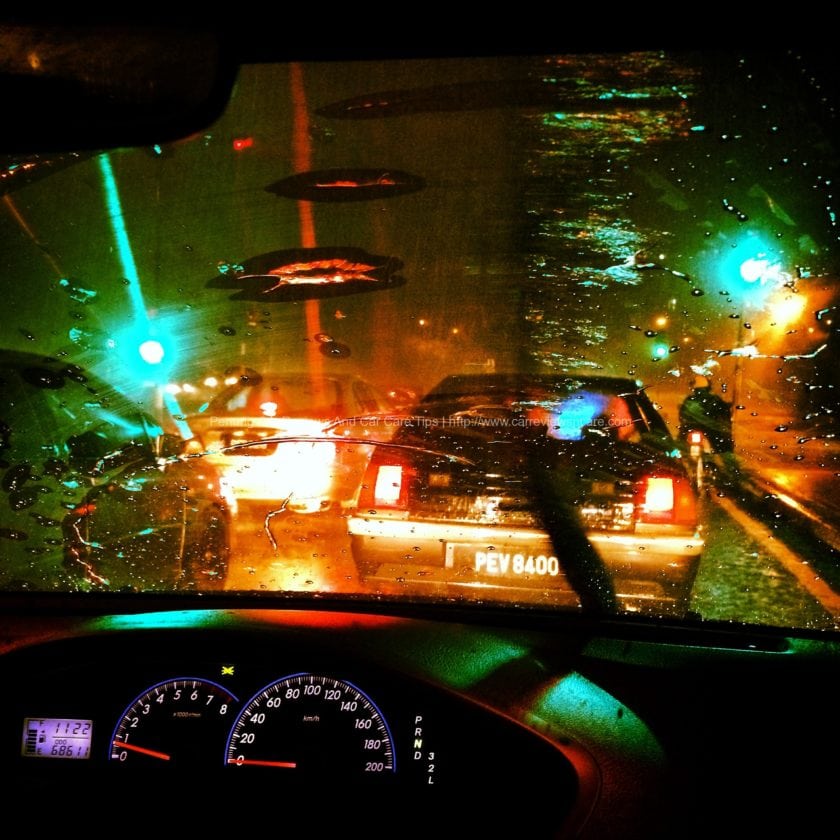 Driving in the rain required crucial driving skills, else the driver might endanger himself/herself or someone else life on the road. Below are the few tips to be a better driver during driving in the rain day:
Driving In The Rain Tips
#1: Turn ON your vehicle headlamp
The lights and headlamp of your vehicle are created to provide the driver visibility and also to other road users. During the heavy rain, users on the road have a hard time to see on the road. Turn the light ON and let the other see you.
#2 Drive Slower with Cautions
Driving on the wet road is dangerous because the vehicles tires have less effective gripping on the wet road. When the vehicles move faster than the tires can provide sufficient gripping on the road, the vehicle will lose control and failed to stop on time too. The vehicle required further distance to stop on the wet surface than the dry surface.
#3 Lower the Volume or Turn Off the In-Car-Entertainment Player (ICE)
Driving under the heavy rain required full attention from the driver. The driver does not only have to pay attention to the vehicle in front of the vehicle but also pay attention to the bikers and other motorists on their side way. Some bikers love to ride by the side of the vehicle, which is very dangerous because that is the blind spot for the vehicle. The driver might need to turn off the In-Car-Entertainment to avoid any distraction when driving under heavy rain.
#4 Don't turn ON double Signal Indicator
In Malaysia, I've seen a lot of people turn ON their double signal indicator during driving in the heavy rain. They might though this will create more visibility for their vehicle, but what they unrealized that is double signal indicator usage is to show your vehicle are having emergency STOP. Those drivers that turned ON the double signal indicator might give false warning to the other drivers.
#5 Reduce the Unnecessary Lanes Switching
Drivers have bad sight during the heavy rain and frequent of lanes changing will increase the chance of getting hit by someone's vehicle especially to those who riding on bikes. Bikers are the most vulnerable during the raining day, they are often neglected by the drivers who drive bigger vehicles (cars, lorries…) due to the smaller size of their bikes.
#6 Keep Your Vehicle Wiper In Optimum Condition
Typical wipers would last 1-3 years. Replaced your worn wipers to assure you have the good visibility on the road during the rainy day.
Learn how to replace wiper by your own.
#7 Keep your Vehicle Windscreen, glasses clean
The dirty windscreen will prevent the driver from having good sight on the road during the rainy day. Keep your vehicle windscreen clean and coated with Rain Repellent.
Don't forget to give us a "like' at bottom of the post and share this tips to those who need it 🙂