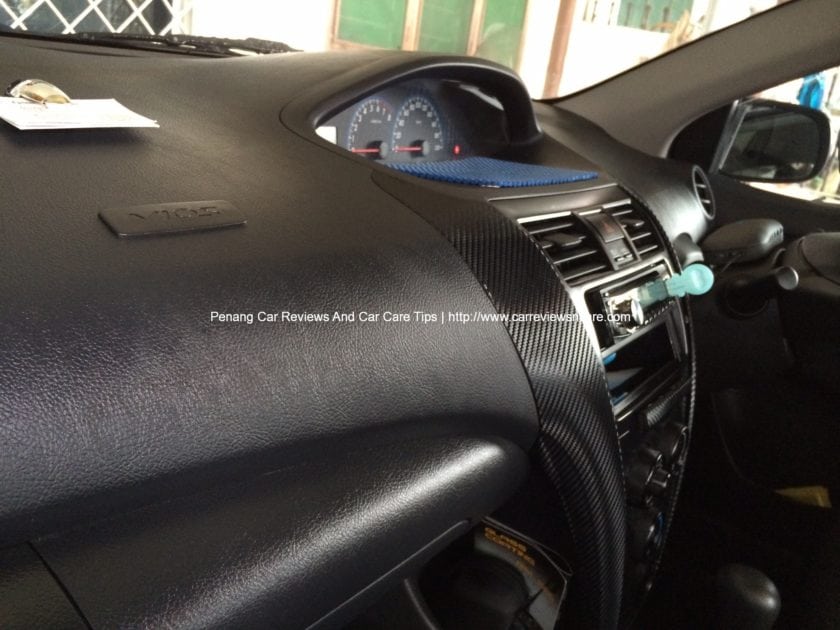 Some people wrap their vehicle body or vehicle parts with carbon fiber vinyl to enhances the outlook of the vehicle, so did I as well.
Previously, I had wrapped some parts of my Toyota Vios interior and exterior with carbon fiber vinyls, and I still have the leftover carbon fiber vinyls. Then, I decided to DIY carbon fiber vinyl wrap on panel dashboard in my car.
The roll of carbon fiber vinyl sheet that cost me RM20 at On Cost 99 Accessories Shop, Bukit Mertajam:
Tools that we required to perform the DIY carbon fiber vinyl wrap on interior trim:
Carbon Fiber Vinyl sheet
Scissor
A Hair Dryer
This is the photo of the original dull and plain Toyota Vios J dashboard in my car:
Now, let's learn the DIY carbon fibe vinyl wrap on the interior trim.
Step by step to DIY Carbon Fiber Vinyl Wrap on Toyota Vios Interior Trim using Hair Dryer
1. Remove the Toyota Vios dashboard parts that are going to be wrapped with carbon fiber vinyl and clean off any contamination on the surface with damp cloth.
The vinyl won't affix properly on the dirty surface.
2. Cut off the carbon fiber vinyl according to the interior trim fixtures with at least a half inch excess on each side of the parts that we are going to wrap.
3. Begin the wraping from the flat surface of the interior trim then slowly move the warping to the corner of the part. The adhesive is lasting, and can be pulled off and reapplied rather easily if accidentally mess up. Ensure that there is no air bubble on interior trim, else it will create wrinkles and looks 'cheap' on the dashboard too 🙂
4. To wrap the corner of the part, we will need a hair dryer. The heat from hair dryer will loosen up the adhesive on the carbon vinyl paper.
Now, start to trim around the corner edge of the parts using hair dryer. The carbon fiber vinyl responds and flexible very well to heat.
5. Heat the vinyl with hair dryer at the corner of the interior trim.
6. Wrap the interior trim with the carbon fiber vinyl until the vinyl is fully held on the parts. This process took me 2 to 3 hours to get the wrapping job completed.
7. Install back the Toyota Vios interior trim on to the car's dashboard.
Below is the video of overall in the Toyota Vios dashboard. Remember to put in HD mode for better detailing video 🙂
Here are some other photos of Toyota Vios parts that wrapped with carbon fiber vinyl:
Enjoy this DIY carbon fiber vinyl wrap? Don't forget to give us a "Like" at bottom of the post 🙂