Traditional automobiles were viewed as speed machines that manifested due to the diligence of engineers, designers, and entrepreneurial capitalists. The electro-mechanical vehicle is slowly morphing into an electronic, digital and communication facilitator. The greasy neighborhood repairer has to give way to a technical mechanic. The electronics made inroads due to emission needs, fuel costs, and efficient digital controls. So to maintain your car, you must rely on a reputed mechanic and you should hire them after checking their license, credibility, technical knowledge, insurance, and customer feedback. It is a wise decision to search these mechanics online and then compare their price according to their quality, and choose the best affordable one for your car.
Automobile Repairs
The professionals who repaired vehicles like cars, motorbikes, vans, and trucks were always referred to as a mechanic.
Automotive technology has ushered in a sophisticated range of vehicular comforts, and the repairer who advanced technology is now a full-fledged technician.
 The field of car maintenance and servicing has taken on new colors and the contemporary hi-tech methods of diagnosis and troubleshooting are highly effective. The car damage, erosion, leakages, and other technical problems are also resolved quickly.
The finest cars not only have steely frames, but also mechanical, electrical, hydraulic, and pneumatic systems.
The electronics are also very common in a car's fuel and air flow, emission system, diagnostic and maintenance services. Terms like a 4-stroke engine, torque, spark plug, and high volt ignition coil are common parlance for technicians.
Who Is Eligible to Be an Auto Mechanic?
An inclination for mechanisms and tools drives the interest of many young and aspiring automotive workers have now transformed into full-time technicians due to the following reasons-
Self-reliance, technical mind and a practical orientation of the mind motivates them to wear dirty clothes and apply grease on the hands.
Independent mindset and the ability to think about mechanical applications sustain their curiosity for problem detection and troubleshooting.
They have comprehensive knowledge of cars, motors, engines, levers, pistons, air conditioning, ignition, and transmission. Apart from that, they can also deal with the car body damages, engine rebuild, and transmission services.
The desire to learn is always alive and they progress from electrical and mechanical systems to more hi-tech electronic and digital systems.
They derive joy when the motors and cars are brought back into working condition, and this quality encourages them to acquire IT, computational, and accounting skills.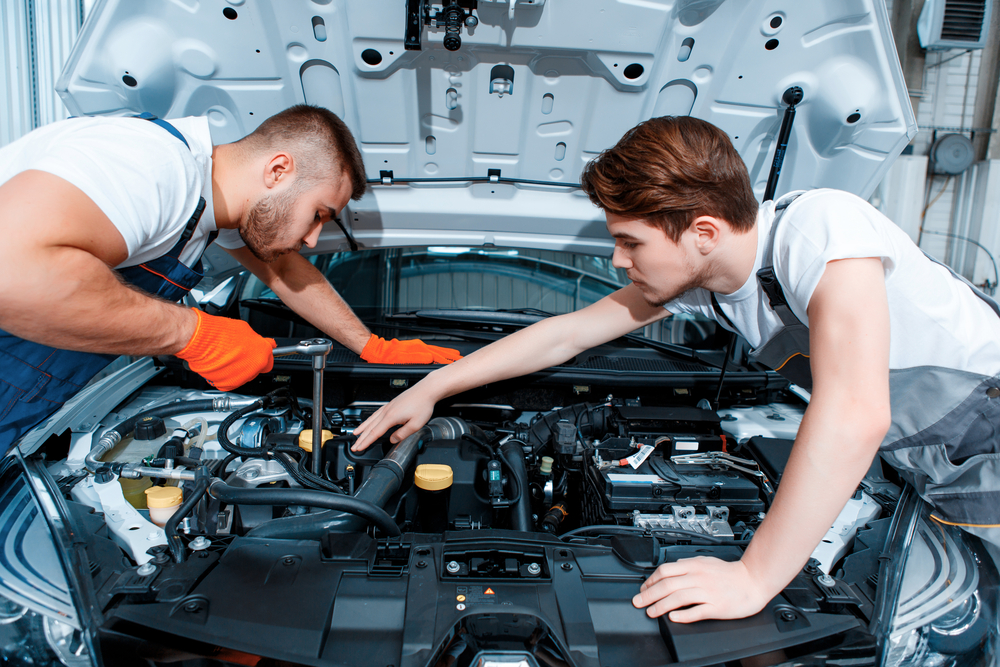 Emerging trends for automotive mechanic: The convergence of technologies and emerging trends point to an Artificially Intelligent future for the automotive technicians have to gear up to the innovations in electronic and communication devices-
Electronically controlled cars on highways with computerized designs, preferential speed limits, and enforced safety distances between two vehicles.
Cruise control lanes with digital communications, subterranean cabling, and scheduled approaches towards the desired exit lanes.
Windshield's with road map projections that can be controlled by electronic switches on the steering or dashboard.
Hands-free driving mode to facilitate business-related mobile communications, video chats, and email messages.
Onboard integrated infotainment system with radio, internet, movies, music, games, and lessons from robotic voice system.
Speech synthesizers that deliver voice alerts pertaining to speed, fuel consumption, electronic credits and destination schedules.
However, we all know about the rapid advancement of technology, and we need to accept the new edge technology with full technical skills. So, in this case, mechanics are also needed to learn so many things to increase their knowledge. So, if you want to hire a professional mechanic then always check their knowledge level and if you want to become a mechanic then always join some reputed automobile school.