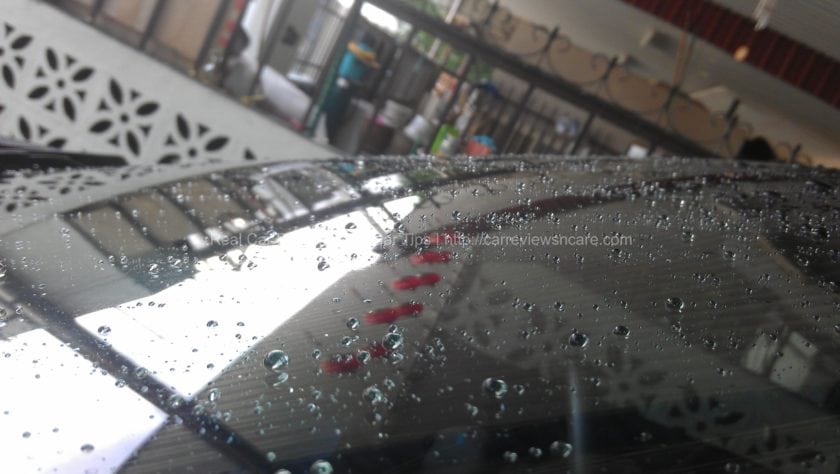 Raining season hit to my country, Malaysia again and  caused everywhere wet and flood as well as caused some people sneezing as well 😛
Other than that, the raining season making our driving difficult as well due to the rain water making our windscreen blurry. This time I've prepared something great to overcome blurry windscreen during rainy days. I bought this Getf 1 Rain Fly:
We can purchase this product at almost everywhere at our local petrol/gas station. A bottle of Geft 1 cost around RM10+ which able to last us a year if we only apply in during the raining season. There is another brand such Rain X doing very good job as well.
Here how we use the Geft 1 Rain Fly
Before I apply the Geft 1 Rain Fly on the windscreen, I clean up the windscreen with a cloth.
Then I apply the Getf 1 Rain Fly on the windscreen and buff it with the cloth until the windscreen shine:
**Important Tips:
To buff the windscreen shine effortlessly: After we have applied the Getf 1 Rain Fly on windscreen, get the cloth slightly wet and wipe on the windscreen, immediate the windscreen shine and clear from the Getf 1 Rain Fly stain.
Rain Fly provides clear visibility on the windscreen even without wipers! This product help to 'prevent' the water beads from attaching to the windscreen or any surface that we've applied on it.
Observation: When I was driving at somewhere above 60km/h speed, the water beads were sliding away from the windscreen due to the wind blow its away. The water beads failed to stay on windscreen with the Getf 1 Rain Fly coating on it. Getf 1 Rain Fly even helps the wiper to do better job as less friction between the wiper rubber and the windscreen, thus better vision you will have. Once apply, the Getf 1 Rain Fly is able to last effectively at least a month on the car windscreen.
This is must-have items during the raining season. Other that applying Getf 1 Rain Fly product, a pair of good and clean wiper will help you to have better visibility as well. Do clean your wipers regularly.
Don't forget to give us a 'Like' at bottom of the post 🙂